A little update on what's been going on around here: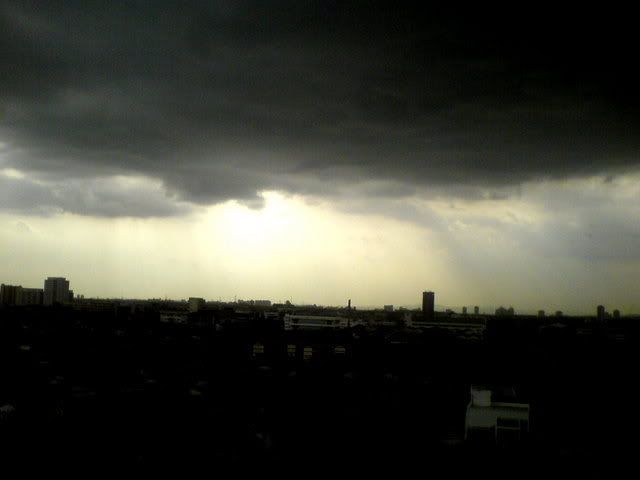 It has been raining the past few days....

Lets start with the class. Recently, the population of the class has increased with the addition of 4 new students, which brings the total now to 35 or so. Yet to get to know the new faces, 2 guys and 2 girls, one of which is from Sibu. Finally a Sarawakian! Lol. I think the college is still taking in students. With that, hopefully, the more the merrier la! Besides, I found out there's this pretty huge age gap among the students of our class: 23-17. Yeah,

17! Seventeen!

And I'm not joking! OMFG, that's as young as my sister, and in a degree course. Apparently, that particular girl jumped PTS, did SAM and entered straight into the course here. =.="



A so-called 'Tutorial class' for Dental Anatomy. Actually, we were happily snapping pictures of the slides with our handphones the whole time.

Things are slowly getting organized here. After 2 months, we finally have our Physiology lecturer from India, Prof. Ghosh. She jokingly said that she'd usually find students pronouncing her name 'Ghost' with the 'T' instead of the 'H'. =p Anyways, she's a pretty solid lecturer, (Ph.D bo) and the classes she conducted progressed smoothly. The down side? I have to buy another book which will cost me at least more than Rm100. =(

We conducted our first lab class yesterday for Biochemistry. Did a spectrophotometry experiment. Was rather casual since we hadn't got our lab coat. Fortunately, the tailors came that very day so we could place our sizes for ordering. Learned how to use a mirco/macro pipette and the spectrophotometer for the first time too!



Cuvettes with copper sulphate solution.

What comes tomorrow? Our first test...Anatomy. Gosh, I'm barely prepared for it and I can see the brains of our class concentrating on their anatomy notes and books all the time. Yiks, now that the 'scarier' side of my class could be seen, I guess it's time to FOCUS! Yeah, although just a test and we were unsure whether it assessed or not, lots of people are taking it seriously.

Yet, there is always this separation barrier that divides the study type of people and the happy-go-lucky people:



Study in the foreground...'group discussion' in the background. :p

At least there's something to look forward to after the test, which is the 1 week mid-semester break. Happy la for those people can go back hometown...I'm stuck here for the whole week, again. We did apply for the week's break to be pushed forward to the CNY holidays, unfortunately, the Dean wasn't able to approved it due to some circumstances. (I heard he was in the hospital, recuperating from his thyroid surgery...ouch!). Again I have to plan what to do the whole week here. Probably do some last minute shopping and so on...

But in the meantime, I've got to start those study gears...NOW!