The bright evening rays lighten up my room. It has been raining the past few days here in KL and a little sunlight is very much needed. Those rainy days gave a solemn mood to everything, a catalyst to your sleepiness. Feels like taking a plunge at the pool below, but then again, maybe not. Maybe a cold shower is much better.

Here I am again, on the black page of the Blogger interface, drifting away from my books and notes. Yeah, I've been trying my best, but once in awhile, I find myself still staring blankly. Finals have been postponed to the coming Friday instead of Tuesday. I rather prefer to get it over with quickly than getting it postponed over and over again. The brighter side of it is that it's beneficial for those last minute readers like yours truly here. Still, making sense of what you study is of utmost important, rather than reading the same thing repeatedly.


The holiday mood is slowing setting it. Heck, it has yet to start, and I've been planning on what to do during the month long break. Plans on celebrating the 1st year among friends, going on a road trip, exploring and adventuring again…tons of plans. Of course heading back home is something to look forward to. Owh, and also in looking forward to getting a new handphone. Been stuck using a SE which has a malfunctioned keypad #3 button and camera. Amazing how I survived nearly a year by typing SMSes without e's & f's. The new Iphone 3g looks promising, but the price really sets me back. Talking about at least 2-3k here. Maybe I'll just settle for the 1st generation one.
It's independence day tomorrow, yet not much fuss about it. Just another normal day in my opinion. Nothing much to celebrate about; no countdown, no merdeka party. Just staying up tonight for the Arsenal match. Perhaps do a small countdown over the MSN with my online friends. Don't see much of a merdeka mood around here in KL as well. There's a sudden lack of patriotism among the people don't you think? I guess everyone is rather concerned with the Malaysian politics at the moment, which we all know, is rather chaotic. From the debates to the by-election, everyone seemed to be caught in this political wave.
Much has been talked about Avril's concert last night. I didn't attend though, but from what I read and saw on the web, it was rather pale. Pale in a sense that the concert just lacked the atmosphere. Saddening how a concert was to be without the jumping and screaming. It seems that the government has gone on a banning spree, from websites (Malaysian Today was blocked, together with a few other sites like watch-movies.net) to concerts (Kedah was issued a statewide ban on concerts). I have a fear that blogs will be banned as well.
Insomnia has set in the past few nights. Been sleeping in the wee hours of the morning. I know it's bad, so I'm trying to change the pattern before it becomes a norm. I guess this is something that happens each time prior to exams. It's as though your mind has rollbacked into emergency mode. Well, I'm trying to make the most of those nights or 'mornings' fruitful by reading my notes. It works studying late at night, but not all the time. And those unfruitful nights were spent mostly on YouTube, forums, chatting, reading blogs and the occasional gaming.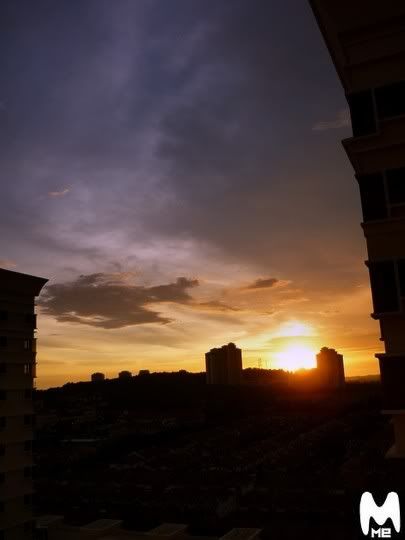 Been quite sometime I wrote something this long and this probably is going to be my last post until the finals are over. Time for dinner now, after which comes those books again. Owh, and Happy Independence Day folks!
Breathe in deep
Before I say
I can feel us slip away
You're almost gone
You're good as gone


August is over