There was this one class we were all looking forward to during this 2nd semester, which is the 'Clinical Simulation'. This is the class where we all could dump our books asides, put on our lab coats, and get messy with the handling materials. What we do is supposedly to prepare the tooth and restoring the cavities, while having fun at the same time. =)

During our first few classes, we were exposed at first to the materials used, mainly the plaster-of-paris (POP) and wax.


Here, we have Mr. Singh explaining to us on how to make the tooth models with POP and setting them properly into the rubber models.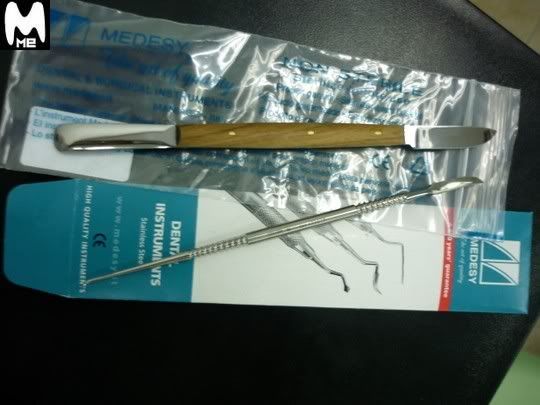 These are our very first instruments to work with. The wax knife and the Le Cron carver.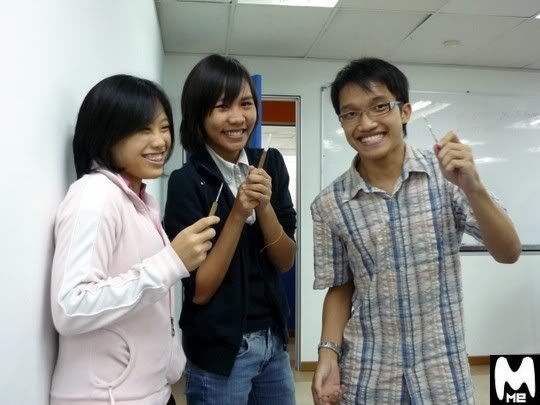 Chiew Yee, Ruyuan & Wye Sern on receiving the instruments.
Tooth carvings are quite fun, but can prove to be tedious. Especially when your lecturer had his Masters in Conservative Dentistry. So you can bet that he is damn particular at times. No doubt, the tooth carving had to be perfectly done to earn those marks. Our first few sessions ended up with a few of us feeling pretty frustrated.
Our lecturer, Dr. Ikmal. He previously had a stint with the national army before becoming a lecturer.
We temporally used the DSA (Dental Surgery Assistant) students' lab, which was just next door. Each of us had our own work stations, complete with a Bunsen burner, a hand held bur, and some other fancy stuff
Our classes were usually held after lunch, and it is the only class whereby attendance was nearly 100% all the time.
Our first preparation, cutting a plaster model of a lower left central incisor, mesio-incisally. The purpose of it was to expose to us the consistency of the POP.
We had to fill up the huge cavity with wax after that. Wax was something hard to work with as it could be modified easily. Getting the right technique in filling the cavities requires a lot of practice and patience.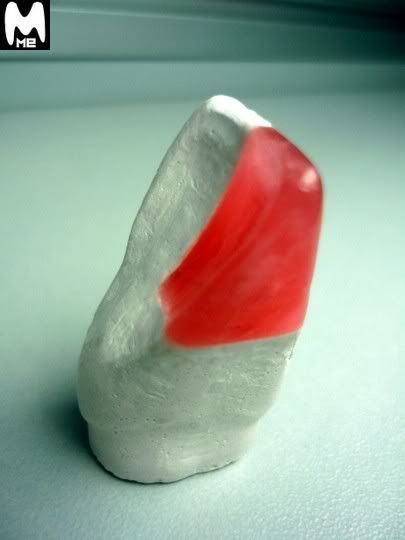 Here's the same tooth after the wax and details. The hard part is carving the lingual side of it, with all the ridges plus smoothing it out.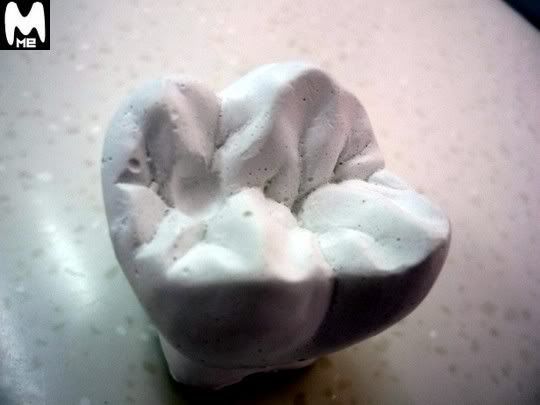 Our next simulation, a class I preparation on an upper left molar. The wax filling of this model was postponed however.
One of the recent ones, a class III preparation of an upper left central incisor. Yet to be filled with wax as well. Might look simple, but this one took me a lot of time working on it.
This week itself, we finally had our chance in using the actual clinical simulation lab. This lab had nearly 50 work stations, each fully equipped with a dummy, and more cool instruments.
Apparently, each of these work stations cost around rm30 000. Woo!
Our flexible dummy. Soon, we will work on him. xD
The air and water pump.
My table with the flexible light. Comes with an X-ray scanner too and a yet to be fixed LCD screen. Can't wait to try it during our 2nd and 3rd year.

So much for now about my clinical classes. I'll post more about it as time goes by.