Christmas comes tomorrow. A time of happiness and joy.
But wait...
Oddly enough, I find myself alone.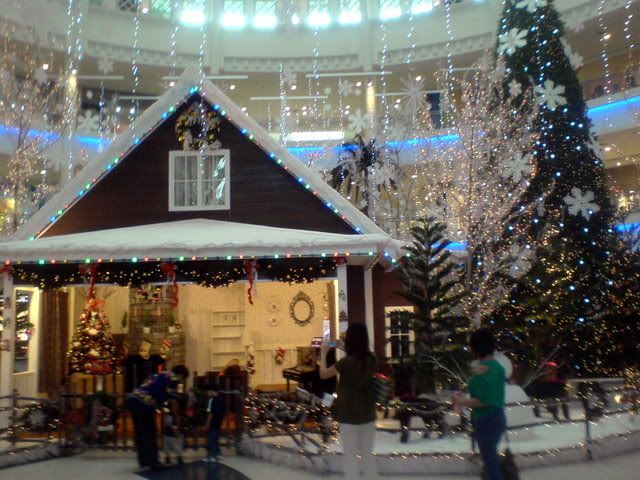 At The Curve
No direct contact with anyone else besides the guard downstairs for 24 hours or so. Friends are back in their hometown's for the holiday break. The whole apartment block is empty. Quiet & peaceful.
But too quiet...

My handphone has been silent on the message and caller tones. In fact, I hadn't charged it for 3 days and it's still running on 50% battery life. That's how "happening" I am around here.
Reminds me of "I Am Legend" staying alone here...
Guess I'll be celebrating Christmas tonight by my laptop. Serenading myself with the many Christmas tunes playing from my Media Player. Having merry thoughts and celebrations spinning around in my head, but not in reality. Maybe I'll preoccupy myself with sending Christmas greetings to my friends through Friendster & MSN. Perhaps go on Camfrog and wish X'mas greetings to the odd but friendly people online, webcamming with one another.
Christmas tree at Times Square...
5.15pm. It's raining outside, cold inside. Air conditioning has been switched on two days in a row. It's so cold, I found myself sleeping past lunchtime. Gazed outside the window....saw rows and rows of cars, zooming past along the highway. All returning back home after work. Back to their families, to the Christmas eve dinners and merry making. Imagine the turkey, the ham, the pudding...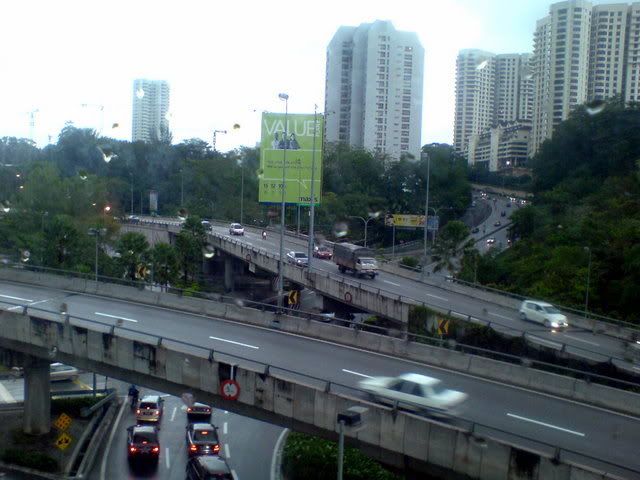 They're returning back for Christmas...
What's on the dinner plate tonight for me? Again, canned food, curry & baked beans from lunchtime....Thinking of throwing in a few chunks of hot dogs as a special treat.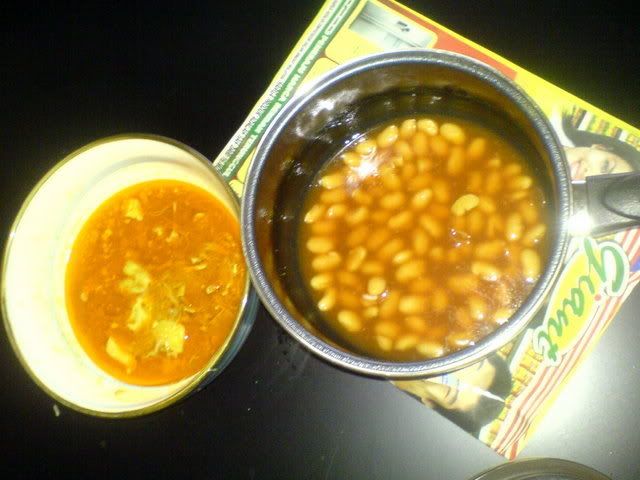 Curry chicken and baked beans in tomoto sauce for lunch...and dinner later on...
I'm making it sound like it's such a pity staying back here alone. Heck, there's not even a Christmas tree around here. The only ones I have are pictures taken from various malls around KL. Heh. No decoration or whatsoever.
Little drummer boy at 1 Utama
Last year, I had so much fun prior to celebrating Christmas. I vividly recall the class Christmas party, the guardian angel game, caroling with the Catholic society, the presents.

Christmas 2006
This year...not sure whats gonna happen...
Nothing to be sad I told myself. Christmas is a suppose to be time of joy.
Merry Christmas Ken...Merry Christmas...