Snippet: I miss the beach, someone take me there...

Here' are few photos (since my blog is lacking the colors) taken with the iPhone. Never knew the 2mp camera was this powerful. Anyways, most of these shots were taken at random just to test the functionality and power of this cool gadget. And also a timely update into my holidays. I'll try describe these random shots the best I can.

#1) When It Rains...It Rains!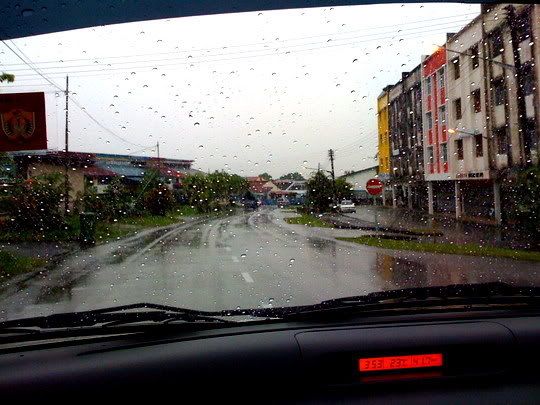 The climate change here in Kuching is drastic. You could face a baking hot sun in the afternoon and end up driving in a wet conditions in the evening. And usually when it rains, it's a freaking thunderstorm. These rainy changes cancels the plans of heading somewhere, all the time. Yet, it's a good and bad thing too. Rain = nature's sleeping catalyst!
#2) The Padungan Arch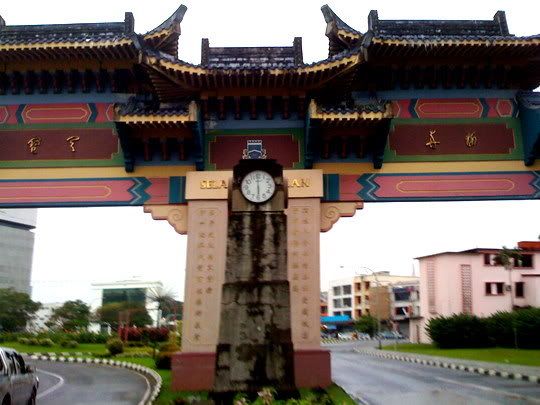 This is the famed archway and clock tower which greets you when passing by Padungan Street, a famed street in Kuching lined by colonial style shophouses. You can find all sorts of shops here; kopitiams, pharmacies, restaurants, even tyre shops. I used to walk along the five foot ways of these streets during my childhood here; a walk from one end to the other will take nearly 30 minutes back then. Would always frequent a candy shop to buy sweets and tit bits, which is still open for business today. And nearly all parades will pass by this arch, so during those times, we would gather with our family and friends along this street to watch the parade floats. Ahh...those nostalgic memories.
#3) The Friendship Arch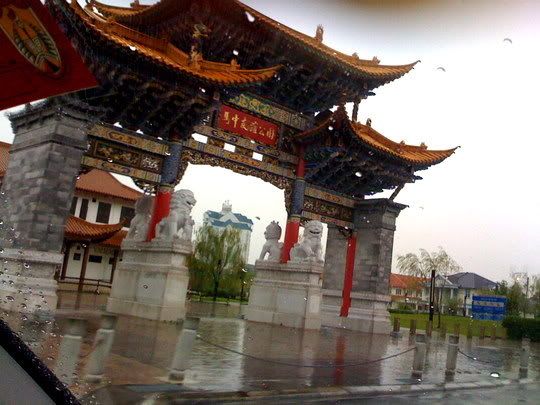 Here's another arch, just a stone throw's distance from my house. It marks one of the two entrances to a park known as the Friendship Park. Designated as part of an anniversary celebration between the China-Malaysia relationship few years ago, the park features a man made pond, a huge Admiral Cheng Ho statue, gazebos and a main building crafted by craftsmen from China. The park also doubles as a jogging ground and for line dancing gatherings. Nowadays, due poor maintenance, much of its features were run down. The gazebos' are now cordoned off to the public and the pond is just like
any other
longkang
water. During the night, it turns into a dating ground for youngsters and also a hot spot for drunkards and crime.
#4) Everrise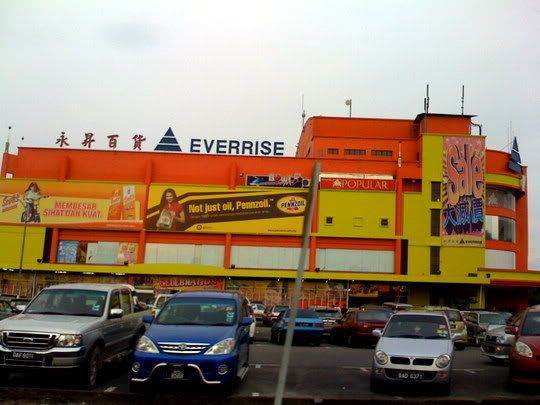 This is Everrise, a shopping podium located minutes away from my house. This building and the area around it, know as BDC (an acronym for something I'm not sure of), caters for the residents of my neighbourhood. I bet every kid who grew up in Kuching knows what Everrise is. A franchised multifunctional store which pops up everywhere in Kuching and its suburbs, every Everrise store roughly has the same concept: Supermarket downstairs, Departmental Stores upstairs. Something like the Tesco or Giant of Sarawak. But wait, we don't have hypermarkets yet!
5#) Dirt Cheap Things!
Check out the price tag on those earphones! In Kuching is where you can find RM0.50 earphones and tons impossibly cheap things! (most of them imitated goods though...haha)
Not to mention the good food too:
kueh chap
,
laksa Sarawak
&
multilayered
teh c peng
! Just had my bowl of laksa this morning, and to me, it still owns Penang's one. Hahah!
6#) The Suburbs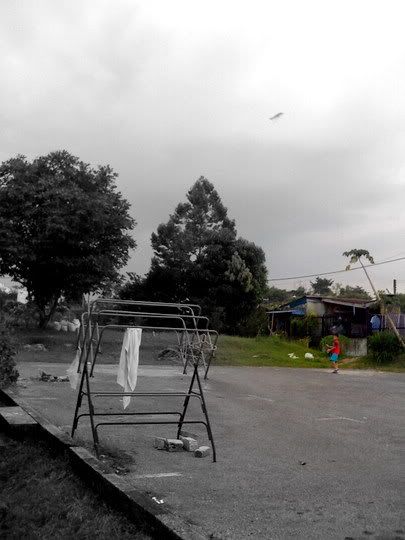 A photo taken to show life in the suburbs. That's a carpark space which doubles as a place to hang your laundry and a playground for the kid playing his kite. Reminds me of
Kampung Boy
drawings by Lat. I used to play kites too around the vast dusty areas near my neighbourhood before the growth of those mega development buildings and housing estates. Loved kites but now they're collecting dust in the storeroom. Heh! Owh, the houses around the area where the picture above was taken, are unique their design and build. The entire floorboard of the upper floor of these houses are made of wooden planks. And the front portion of these houses open up to the kitchen, and the living room is at the back! Cool huh!
7#) Flyovers...rare!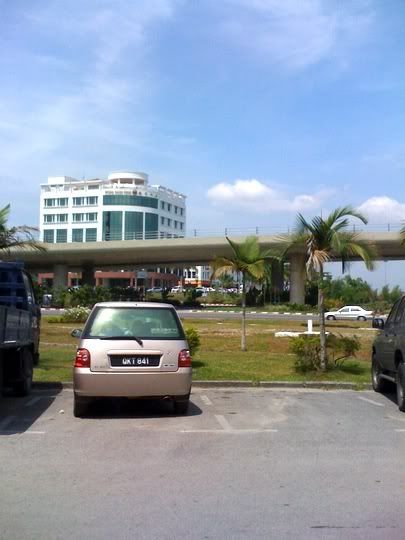 In Kuching, I think you can count the number of flyovers with your fingers. Only 4 as far as I can recall! It's a number so small compared to the many flyovers of KL. You can spot the one in the picture on the way down from the airport heading to the city. But there's this annoyance which is so frequently found at the many crossroads and junctions:
Traffic Lights!
Most of these traffic light junctions used to be roundabouts before they were converted. You'll need to at least pass by 3 or 4 of these to get to your destination. And mind you, some of the red light waits lasts for 3 minutes or more. Just imagine the time spent waiting and waiting. I had to go through 4 just to get to the city center!
8#) We're growing...slowly!
This is a mega hotel project and together with a few more others will path the way to Kuching's growth...I hope...haha! My dad's supervising work over here by the way. I was told that this is going to be Sheraton Hotel. Each time I return back to my hometown, I'll be quite surprised at the development that's happening in and around. Although you still don't find buildings exceeding 20 floors (you can believe me in that!), there is still minor growth everywhere. It's good to see this small city upgrading itself. Yet, I'm still fussing over the lack of GSC! Movies here are darn old!