Snippet: Having coughs the past few days. Just when I thought it will get better, diarrhea comes. To make matters worst, I am broke with still a week left this month. The month of May truly is a bad month. =(

The class' first double birthday celebration this year. Here are our birthday babies:


Ru Yuan & Dennis

Celebrated both of their birthdays over a period of two days last Tuesday & Wednesday. The plan on Tuesday was to have a steamboat dinner over at Sunway with a few classmates. But then, upon reaching the place:
Shop closed...of all days! (I tell you...this month of May really
soi
la!)
So what to do while thinking for an alternative? We all started fooling around,
lepak
like
siao lang
Note to Kien Yee: I'm helping you to do free advertisement at no charge. xD

Since most of us really wanted to stick with the steamboat plan, we ended up across the street at another steamboat restaurant. Not as big as the initial restaurant we wanted to go earlier, but I think non of us really cared.
Random pictures while having the steamboat.
Arlena
tak puas hati
at something.
From left: Dennis, Vincent Ng, Alvin & Clevin
When 13 people squeezed up having steamboat on a table for 10, this is how you have to eat, as demonstrated by Kien Yee.
Told you
pedas
already!
Someone decided to create their own 'ice blended'
After
steamboating
, we headed to Station One @ Subang for a second round of drinks since we wanted to wait for the clock to strike 12am, which marks Yuan's 18th. People only 18, which reminds me I'm like um...20 this year? LoL, old liaw.
We played cards while waiting for time to pass.
Dennis trying to 'magically' cheat poor Chiew Yee.

And so, the following day, we surprised the both of them with a birthday cake in class. However, I guess they predicted it because they found out we were planning something after seeing some of us collecting money. =.=
The cake from Secret Recipe

Aiya...where got people cut cake in this fashion? LOL

After all the candle blowing, cake cutting, and eating...
some
camwhoring
sessions took place.
Alvin leading a bunch of guys at the back browsing for potential 'candidates' from an alumni book.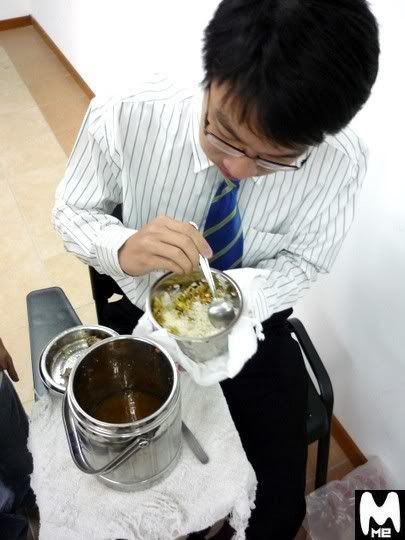 How fortunate to have homecook food!
Absolutely no idea what these two are doing behind the curtains
Height hierarchy (Kien Yee and Arlena's expression damn funny la!)