It's been nearly up to a month since I've been here. The measure of time here is as though it was twice faster than before. Time really flies when you least expected it. Day after day, with the cycle ever rotating, the hectic life kept us all busy. It makes you seem as if sunset comes straight after sunrise.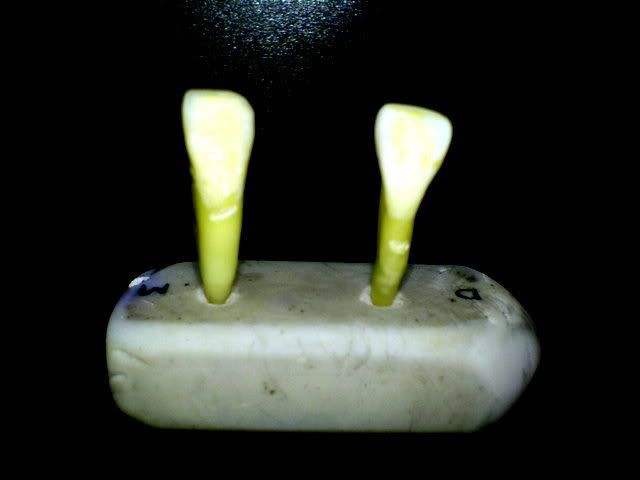 Mandibular Central & Lateral Permanent Incisors, I forgot which was left or right. LoL. And owh...that was my unused eraser as the base. :p

Yet, away from all those classes, we managed to keep the light of entertainment ever glowing among the darkness of studying in our own space. Away from trying to familiarize ourselves with the dozens of terms and the process of learning in that cold cold room, was the warmth of visiting the many sites around KL & savoring the best of what the city has to offer us. There was plenty to see in and around, so we took it slow, visiting one place after another. Over the past few days, this was what we did:

Donut Mania
While people flocked in numbers to visit Pavilion, the new mall at Bukit Bintang, no one knew what the impact was when J.CO Donuts & Coffee opened it's door there and for the first time here in Malaysia.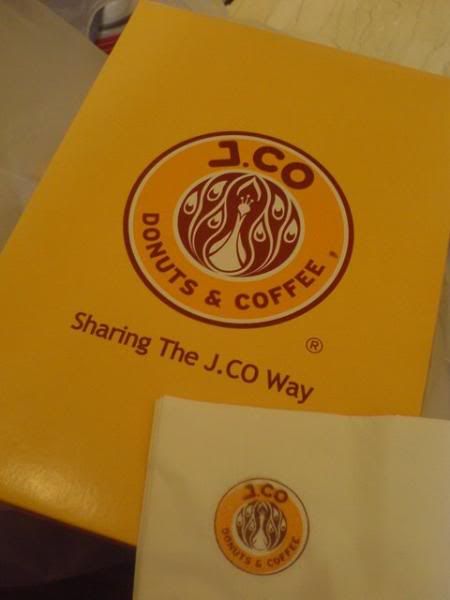 Under this box...lies those heavenly rings.


The Indonesian based donuts & coffee outlet literally...and I meant literally, caused the "donut mania" to around the city and possibly the whole nation. Word of mouth spread through the real world and the virtual world about how scrumptious the donuts were, and at any moment, people would be seen queuing up just to land their tastebuds on the donut rings.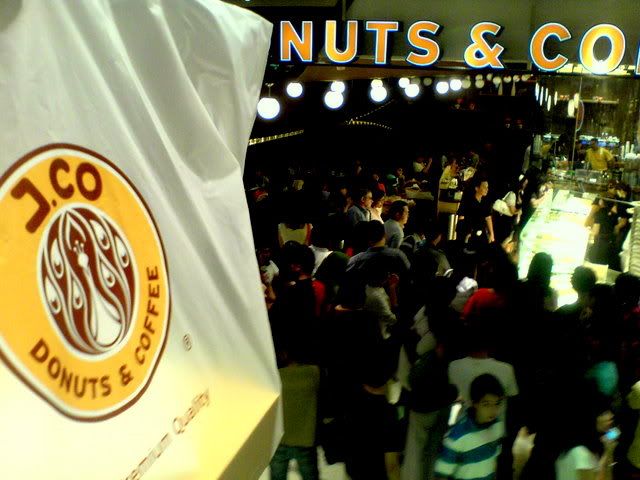 Nope I didn't cut the line...I waited in the queue for 45 minutes actually. Crazy as it might seemed, but believe me, it was worth it...

After dragging my friends to believe me that a donut nation exists in Malaysia & we were to be a part of it, we headed down to Pavilion and soon found ourselves in the long line of customers, waiting patiently for our turn to be served. It didn't felt like a long wait although it was. The customers were busy discussing among themselves, about choosing the donuts & the amount to buy. Some were seen snapping photographs, while other were curiously peering at the glass screen, looking at the workers polishing their donut making skills.


The craze begins here
As we got nearer to the counter, the smell of freshly baked donuts & the pleasant coffee aroma was inevitable. The line behind us kept extending as the donuts were served by the dozens to eagerly waiting customers. It was a tough decision to choose which donuts to buy when you have roughly 20 types to choose from: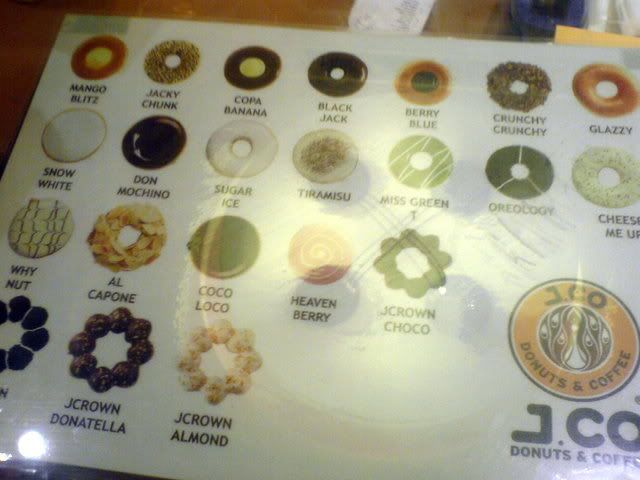 Each donut had a special name and each came with a different assortment of flavors and fillings. So in the end, I bought 1/2 a dozen for myself while my friend Jae Ric, shared a dozen among our other friends. For RM11.00 for 1/2 dozen & RM20 for a dozen, it's pretty affordable considering this:

My 6 pack... (Al Capone, Don Mochino, Oreology, Cheese Me Up, Crunchy Cruchny & Jacky Chunk)
Jae Ric's dozen (Crunchy Crunchy, Why Nut, Don Mochino, Al Capone, & Berry Blue)
The verdict? Better than any donut I've ever tasted. Dunkin is miles away from achieving this marvel of donut creation. The donuts were soft & sweet, and each topping adds to the assortment of tastes. The best seller was Al Capone (almonds) but my personal favorite is non other than, Don Mochino:

Creamy chocolate topping with a foamy cappuccino filling which flows out with every single bite...heavenly!

I ate my donuts at one of the many benches in the mall as there wasn't any seat in the cafe. I could care less about the public or the curious looking storekeepers looking down at me enjoying my donuts. Jae Ric himself gobbled down 5 in a row while my small appetite could only handle 3 although it was definately good.

Seriously, this donut owns! It rocked my taste senses so much till I returned to J.CO the next day...and together with Michelle, queuing up another 45 minutes for a different set of donuts.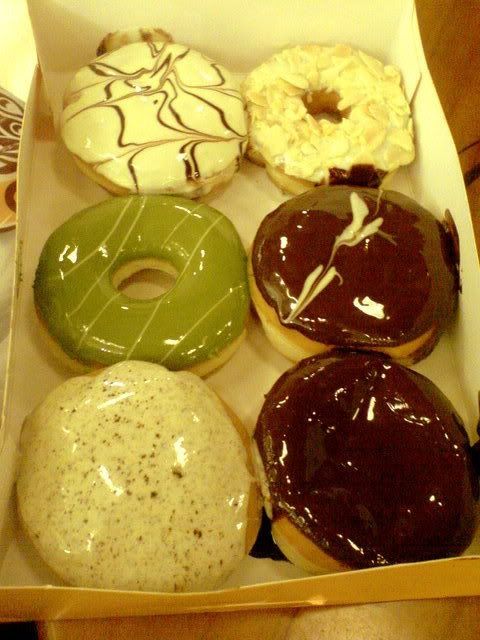 Why Nut, Al Capone, Don Mochino, Black Jack?, Tiramisu, & Miss Green T)



After eating donuts for 2 days in a row, I'm offically suffering from "donutension" now...

Eye on Malaysia





Following the concept of the Millennium Eye in London, Malaysia has it's own 'eye', dubbed the Eye on Malaysia, in accordance to the country's 50th independence. The 'eye', built early this year and is scheduled to be taken down before 2008, is actually a huge ferris wheel which offers visitors a glimpse of the city landscape in one of it's gondolas. Curious to find out what it was, we made our way to the 'eye' which was located at Taman Tasik Titiwangsa.




Arriving just before dusk, the park was populated with throngs of people, just like any other place of interest. It was my first time here, and my first at a lake park within KL. It was good to find a break from the hectic city life and take a walk or jog around the park like so many others did here. Yet, as what my friend told me, the eye has created a distraction to this once quiet park, with tourists flocking to this park by the bus load.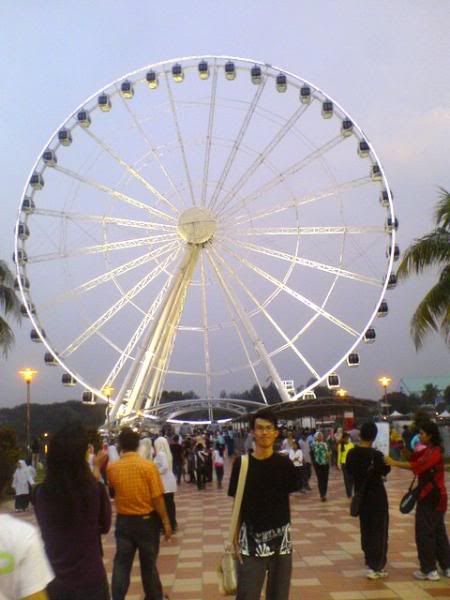 Hi mom...


The fountain spray



A photo of mua & Ken, who is from Cameron Highlands. It's pretty funny & sometimes confusing to have someone with the same name studying in the same class as you are.



Ken & Ken...



Here's the other two guys who make out our small but happening clique. Introducing Wye Sern & Jae Ric.
Tennis freak and panda lover
The skies got darker as we lined up in the queue for tickets. The queue was a good 20 minutes wait, and I guess people took advantage of the school holidays. Price was rm15 for an adult and one could hire a private gondola for rm100. There's even a VIP gondola which costs rm200.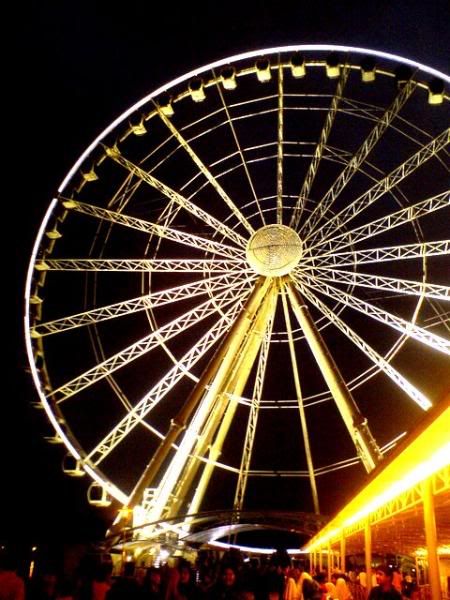 The huge wheel lit up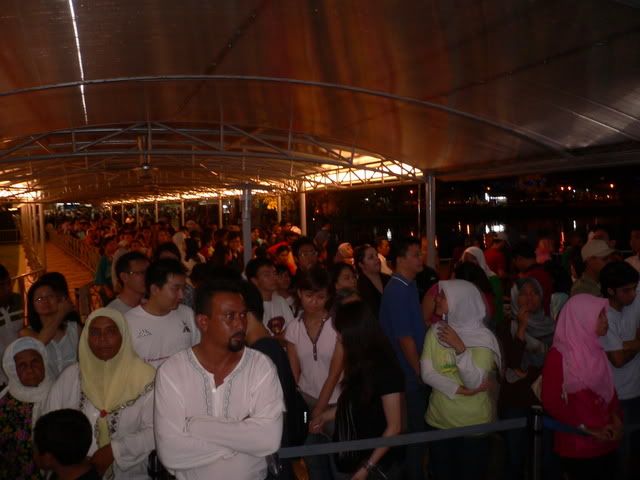 Jeez...people & queue's everywhere
Under the huge circular structure.

Sadly, we weren't able to have a gondola for the four of us, so we had to share it with a Malay couple. Higher & higher the gondola went, and we had a good view of the city nightline and the many suburbs around. Everyone started whipping out their camera's and snapped away. Most of the images weren't that clear, had a hard time taking still photos with night mode as the gondola was rocking. These were the less blurry ones: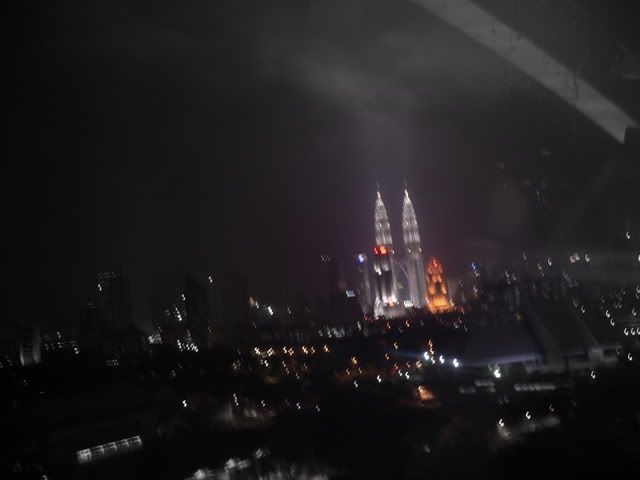 The city center at a distance.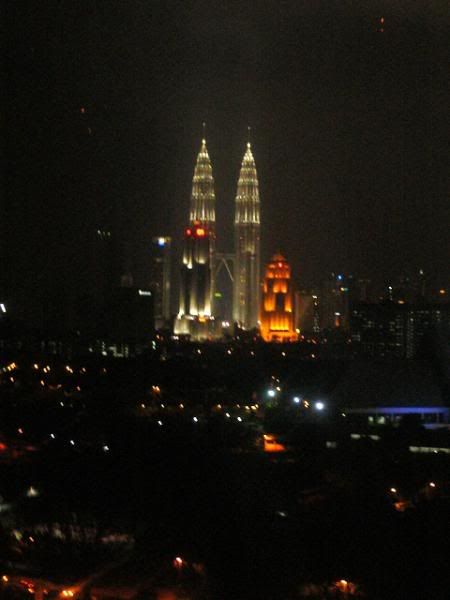 Close up of the Petronas Twin Towers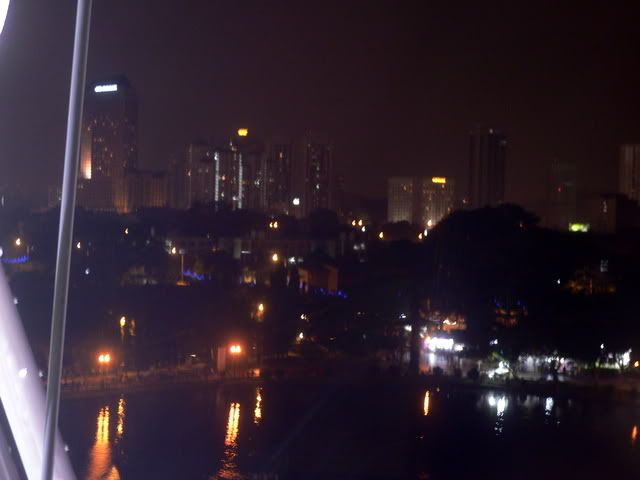 Few of the skyscrapers at night

The ride was around 15minutes or 5 rotations. The rotations were faster than we much expected and it was rather humid inside the gondola. We were told that months earlier, fireworks display would be held every weekend night. Presently, the only spectacle visible at the lake was some lame laser light display.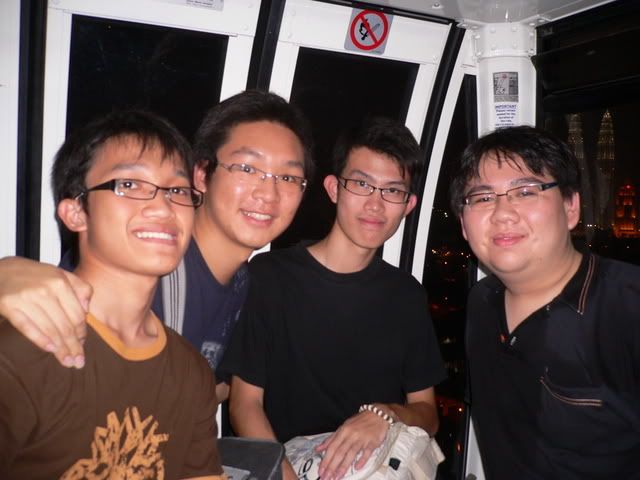 The click 4.
Homecooking
Yes, we finally cooked our very 1st meal together. It was a first for most of us, cooking elsewhere besides at home and among friends. We had this plan at the back of our minds earlier on after realizing the lack of food outlets here at night, but the breakthrough came by when our fridge and gas tank arrived just last weekend.
Which means, we only started cooking yesterday. It was a very simple dish of fried chicken, hotdogs, baked beans, egg & some vege, but we were proud of the outcome although we did a huge mess. The end product:
Who says guys cant cook!
Chicken drummets? = rm9
Hotdogs? = rm3
Egg? = rm2
Vege? = rm4
The enjoyment of cooking & savoring the dish you cooked? = priceless!